The history of Latvia as an independent state begins on November 18, 1918, on that day the "Act of Independence" was signed in the capital of Latvia, Riga. After that a civil war broke out in Latvia between the national bourgeois government and the social-democratic forces of Soviet Russia. This war lasted 2 years and on August 11, 1920 a peace treaty was signed in which the RSFSR recognized the Republic of Latvia as an independent state. However, during the Second World War Latvia again lost its independence and became part of the USSR.

Latvia's full independence was restored on 21 August 1991.

But it was November 18 that went down in Latvia's history as an important day. It was then that Latvia became an independent parliamentary republic for the first time.

The Freedom Monument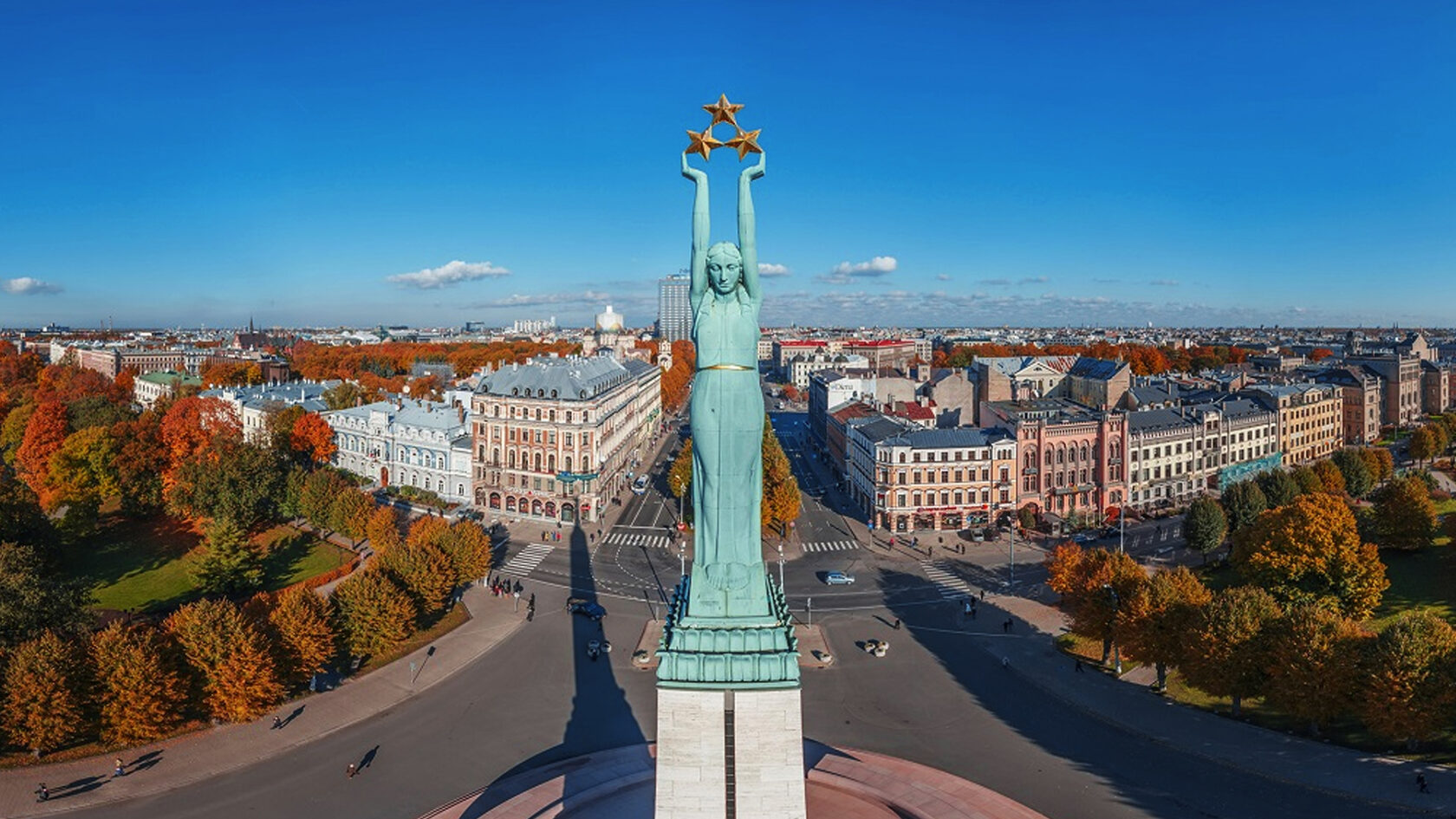 To commemorate the fallen fighters for independence, a Monument of Freedom (popularly called Milda) was erected near the town canal between the old and new cities. The inhabitants of Riga collected donations to perpetuate the historical events. The Freedom Monument was erected in 1935.

The height of the monument is 42.7 meters. It houses sculptures of different groups located on different levels. On the first level are sculptures symbolizing the Latvian people themselves, their awareness of self-defense, power, labor and inviolability. The sculptures on the second level represent the dreams and desires of the people. On the top level you can see a female figure, Milda, holding 3 stars, three historical regions of Latvia - Vidzeme, Kurzeme and Latgale.

Flag of Latvia



The design of the flag of Latvia is based on historical events from the 13th century. During the battle with the Estonian tribes near the Latvian town of Cesis, the leader of the Latvian tribe was seriously wounded. The soldiers carried him out of the battlefield on a white cloth. This cloth was soaked with the leader's blood on both sides and later hoisted as a banner that led to victory. Since then, the flag of Latvia consists of 3 stripes: crimson, white, crimson.

Symbols of the coat of arms of Latvia



The coat of arms of Latvia was designed by a Latvian artist and adopted in July 1921. The national statehood of Latvia is symbolized by the rising sun in the upper half of the coat of arms. As a sign of nationality, stylized images of the sun were used by Latvian riflemen during the First World War. Seventeen counties inhabited by Latvians symbolize the sign of the sun with seventeen rays. The united Latvia, uniting three historical regions: Kurzeme, Vidzeme and Latgale, is symbolized by three stars above the shield of the coat of arms.

103rd anniversary of the restoration of Latvia's independence



In 2021, a painting by artist Paulis Liepa became a symbol of Latvian holidays. You can see his paintings everywhere in the city.

Golden veins, similar to the woven patterns of wood, overlapping each other, or the twists and turns of the river, like a path from darkness to light - each has its own path, or one for all. Rich layers of history and twists of fate, the depths of the subconscious where there is more than meets the eye. The answers are within your reach, always right before your eyes, you just have to get up and be.

Holiday events

Today is a holiday in Latvia. So if you do not know where to go, we have selected for you some cultural events in Riga.

November 18, Thursday at 6:00 p.m. Concert dedicated to the national holiday "Signing of the countries in Mežaparks"
The concert will feature well-known and popular folklore groups in Latvia - "Suitu sievas" (Kurzeme), "Saucējas" (Sēlija/Vidzeme), "Igauņu ģimenes ansablis" (Latgale), "Rikši" group (Zemgale/Vidzeme). The energy of the folk songs and the wisdom encoded in them will allow listeners to reconnect with the traditions and heritage of the past and rejoice in how and what our spiritual heritage can give to each of us today.
Learn more

November 18, Thursday at 6:00 p.m. Festival Concert of the group "Melo M".
The concert of the group "Melo-M" in honour of the state holiday. If the situation at COVID-19 allows the all-day presence of listeners, the concert will be broadcast live only, and there will be no live broadcast. If personal presence is not possible, the concert will be live broadcast only. The concert will feature popularly beloved compositions imbued with patriotic values that are already considered masterpieces of national values. The powerful, varied and high-quality performance of the group "Melo M" will give each spectator of the concert an unforgettable musical experience.
Learn more

Instead of a ceremonial salute, the Latvian Air Force plans to fly over the Old Town of Riga and the Freedom Monument, leaving behind red-white-red smoke.